I tried to pull out one of my khakis that been kept for some time from my wardrobe, then only realized it is hardly fit well anymore! Perhaps I have expanded lately. Hey, is time to do some workout. Anyway, before I go for some new khakis to fill up my wardrobe in this coming season. I thought of sharing with you, what are my top 5 criteria when coming to Khakis selection.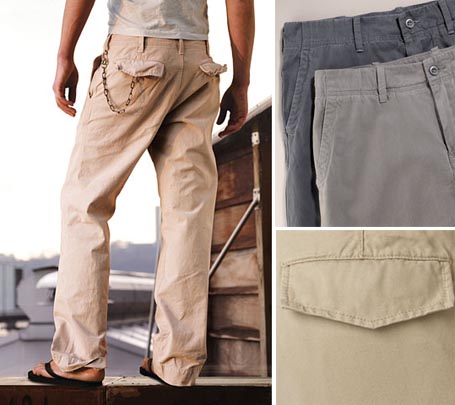 1. COLOR:
Chinos are also called khakis for a reason: color. I suggest to stick with tones from stone to tan. Faded khakis are best reserved for outdoor Sundays and darker versions are refined enough for the office as long as they're crisply pressed.
2. LENGTH:
I always find chinos that hit at the ankle work just as well as those that break slightly at the hem. However, too much of anything is never good. If your pants bunch around
your ankles like crushed paper bags, I suggest you see a tailor.
3. POCKETS:

Most khakis come equipped with four pockets, two in the front and two in the back. There's nothing wrong with that, but to add some variation, try a pair with slant pockets, which are leaner, cleaner alternatives.

4. CUT:

By now you know to avoid pleats. To up your game with khakis you'll need to focus on fit. Straight-leg varieties are the most conventional and comfortable, while slim-cut versions, with a slightly low rise, are the most modern. Both types should skim your hips, and the fly should sit naturally.

5. MATERIAL:

If your pants contain nylon or rayon, or are marketed as wrinkle-free, they're not really khakis. Buy 100 percent cotton, and in the summer, stock up on the American original in washed twills and poplins.
---
Technorati Tags: Men Fashion, Mens Khakis, Mens Designer Khakis