by
Melanie Bernds
Tuxedo Essentials: Master the final points of Formal Wear
A Brief History
Contrary to common belief, colorful tuxedos were not an invention of the 1970's and 1980's. In fact, brightly colored formal wear was the rule in the courts of England until the early 1800's when a certain Beau Brummell appeared at a formal function in black and white. While Mr. Brummell caused quite a stir, he also began a fashion trend that has yet to die.
A second major transformation in formal wear occurred in the 1890's in Tuxedo Park, New York, when tobacco tycoon Griswold Lorillard appeared at the Tuxedo Park Ball in a black version of the English smoking jacket. Until that time, black coat tails and a white bow tie had been the tradition. Like Brummell, Lorillard caused quite a stir and started a trend that continues. He was also influential in naming this new outfit the "tuxedo", after the city in which it debuted.
Though colorful tuxedos can be seen in the windows of many formal wear stores, the most widely worn selection is the black tuxedo. The jacket may be single or double-breasted with notched, peaked or shawl lapels. Tuxedo pants traditionally have a strip of satin or grosgrain running down the outer seam of the leg.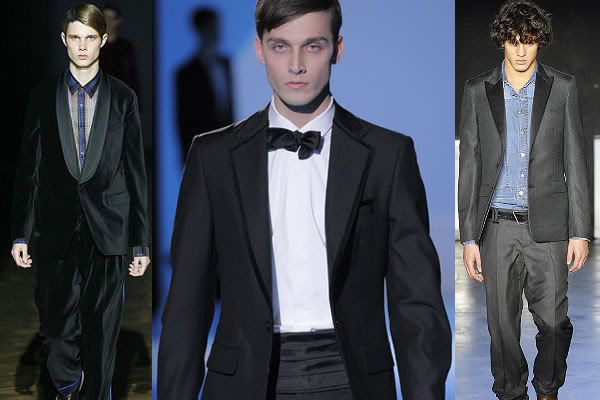 Dress shirts may be constructed of fine broadcloth or voile. They are generally white with subtle front pleats, French cuffs, and a wing or turned-down collar. Traditional bow ties are black satin or grosgrain, though brightly colored and patterned bow ties are very popular today.
Essential Accessories
A waistcoat OR a cummerbund should be worn with a tuxedo, but never both. Waistcoats are formal vests, usually made out of a contrasting silk or matching wool. Cummerbunds are worn around the waist, attaching in the back with a small clasp. A cummerbund should match the bow tie. Tradition calls for cummerbunds to be worn with the pleats facing up. (The folds of a cummerbund were once used for storing theater tickets.)
"Tuxedo shoes" are best characterized as lightweight, black, and free of ornamentation. They are traditionally patent leather pumps or seamless lace-ups. They should be worn with lightweight black stockings.
Levels of Distinction: White Tie vs. Black Tie

It is important to note that there are several levels of formal dress, the two most formal being "black tie" and "white tie."
For a black tie social function, appropriate attire consists of a black tuxedo and dress pants, a white dress shirt with turned-down collar, a black or patterned bow tie and cummerbund, black formal socks, and plain black or patent leather oxford shoes.
For a white tie event, nothing less than full dress attire will do. White tie is the most formal of formal wear and includes silk-face black coat tails and dress trousers, white pique dress waistcoat and matching bow tie, white pleated dress shirt with wing collar and French cuffs, formal socks, patent leather shoes, and pearl cuff links or studs. The look is completed with a dark overcoat, white gloves and scarf, and an opera hat.
---
Technorati Tags: Man Fashion, Tuxedo Fashion, Dress Shirts, Tuxedo Shoes, Man Waistcoat, Man cummerbund